This October 2019 Divi launch the amazing release of Divi theme builder 4.0. And with this event, they have organized the Give away a Free MacBook Pro.
Elegant Themes | Giveaway Page | Pricing
---
Overview
Divi is the most popular theme in WordPress which is developed by Elegant Themes. It has the Ultimate WordPress Page Builder which comes with more interactive UI.
I like the UI (User Interface) of the Page Builder. It is more user-friendly and easy to use. It takes WordPress to a whole new level with its incredibly advanced visual builder.
Drag & Drop Building – Without coding: Add, delete and move elements.
Visual Editing – Realtime design and customize pages using intuitive visual controls.
Custom CSS – Developers can easily combine visual design controls with their own custom CSS.
Responsive Editing – Building beautiful responsive websites is easy.
Design Options – Enjoy dozens of unique page elements and thousands of design options.
Inline Text Editing – Just click and start typing! Editing your page has never been this easy.
Design Management – Save and manage unlimited custom designs.
Global Elements – Manage your entire website's design using global elements and website wide design settings.
Undo, Redo & Revisions – Easily undo, redo and travel through your entire editing history.
Divi 4.0 Highlights
Divi 4.0 is the biggest Divi theme update in the year 2019. Below is the first preview of the Divi Theme Builder.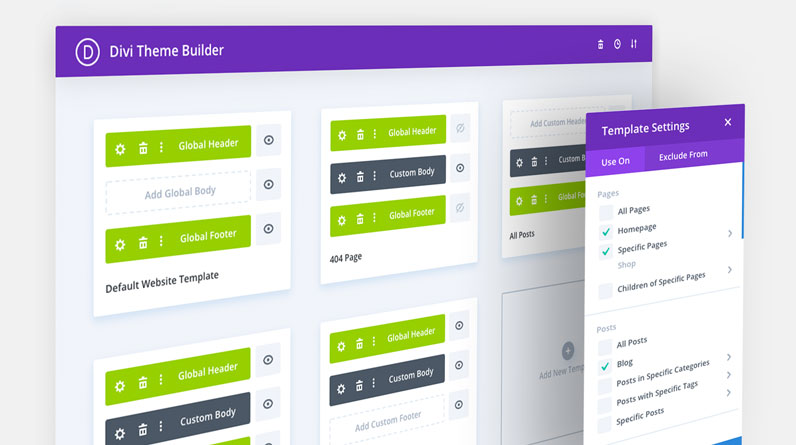 Let's quickly see the introduction video:
Below are some highlights of the Divi Page Builder.
Customize Dynamic Content
Currently, we are limited to with Divi Builder to updated only page content, but the upcoming Divi Theme Builder it will be changed.
But, with the Theme Builder, we are able to use the Divi Builder to customize every part of our website.
Control on Headers & Footers
With the Theme Builder, we can able be to create completely custom headers and footers. All it has done with the amazing modules and customization options. The possibilities are endless!
Control Page Templates
With Divi Theme Builder we can control and design blog pages, product pages. E.g. We design the single blog page and it applied to each blog posts.
So, We can manage any page template from site-wide.
Much More..
The Divi Theme Builder takes the power of the Divi Builder and unleashes it.
With the Theme Builder, you will be able to customize everything: Headers, Footers, post templates, product templates, category pages, shop pages, 404 pages and more.
Design each part of your website using conditional logic and do it all from a super slick new Theme Builder interface. We know every Divi user is going to love it!
Conclusion
With Divi Theme Builder, We can single page, post designs also any other parts including headers, footers and much more with conditional logic in which these apply only if condition matches.
I have joined the Divi 4.0 give away. You can directly join the giveaway or Join with my referral link..

To do this follow below steps: